This valve provides plug in type underground Solid & permanent irrigation systems outlets for low to medium range sprinklers, in small to medium size farms with regular or irregular shapes; to irrigate:
Tall crops, Vegetables, Orchards, Pastures & Turf.
Sprinkler installed on a 2″ aluminum latch type riser will be inserted into the top of the valve, a press-in for hocking up the latch; opens the valve and releases water in to the sprinkler.
 A reverse action shuts the water off.
 When farmer is going to avoid laying large amounts of above ground hose or aluminum tube these valves are the best choice.
Specification:
  * Unique design for maximum economy.
  minimum head lost and maintenance.               
*Solid; one piece body Model A&Q 2″.
  * Self closing cover spring.
  *Female bottom pipe connection.
  *Replaceable internal parts.                         
 Optional: * Mono out let    2″,   * Triple out let   2″ + 2 x 3/4″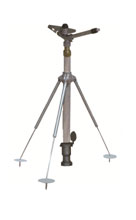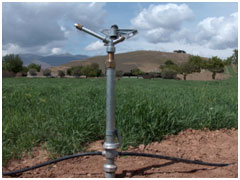 Different height and size of "Tripods" to be used with Giant sprinkle