Wheel Move/ Side Roll
Falik Wheel Move is a Mechanized Set/Move sprinkler irrigation lateral; seated on large wheels; moves by its own power between setting positions irrigates strategic crops and vegetables efficiently; saves water, energy and labor, conserves soil fertility, and enables you to harvest the best yield.
What is a wheel move at a glance/Graphically?
Crops you may irrigate with Wheel Move:
Any crops not sensitive to sprinkler irrigation and not taller than the clearance of the wheel line Lateral tube above ground (in its final growth stage); may be irrigated by this machine (remember Wheel Move is manufactured with different nominal wheel diameters).
Here are few groups of crops which may be irrigated by Wheel Move:
Cereals:  Wheat, Barley, Millet, Oat, Sorghum.
Legumes: Beans, Broad bean, Lima bean, Peas, Gram & other alimentary legumes.
Forage: Alfalfa, Stock beet, Clover, Cassia & others.
Vegetables: Spinach, Celery, Carrot, Parsnip, Green pea, Radish, Mint, Basil, Cabbage, Green onion, Onion,
Bell pepper, Cauliflower, Turnip, Potato .
Industrial Crops: Sugar beet, Potatoes, Tobacco, Soya, Saffron, Cotton.
Advantages of Wheel Move:
Wheel Move(s) plus a main line and a pumping station brings about an irrigation system that any farmer around the world would be able to relay on ; to cultivate his crop and harvest the best yield (quantity &quality), as well as to conserve water, soil and energy, reduce labor and maintenance costs. Let us point out to more advantages:
Feasible investment.
Simple to install, operate and maintenance.
Enables you to save water, energy and costs of irrigation application and other cultivation activities as well as maintenance of agricultural machinery.
Operates on all types of soils with different texture (on silty clay with caution).
It is ideal to irrigate square or rectangular farms, in farms with irregular shape;
by simple technical solution will irrigate efficiently.
This machine easily moves mechanically the sprinkler irrigation lateral with one operator during day as well as in midnight (moves 400 meter lateral in 20 minute- one operator may operate up to 14 Wheel moves).
Enables you to control water application from seeding to harvest.
Enables you to reach up to 85% of water distribution uniformity.
Irrigates most of the crops but; mature corn, sugarcane and orchards.
Enables you to recover the wind effect on irrigation pattern by selecting the right setting time & moving distance.
You will be able to sale the scrap against reasonable cash money when you decided to retire the machine (each Wheel Move has up to 1000 kg. Aluminum.
Disadvantage:
Roll Line like other sprinkler machines seated on wheels; is sensitive to high winds. Since the ratio of its apparent surface to its weight (empty) is high (ap.sur. of a 372 meter long Wheel move with 7′ wheel is 62 sq. m. & its weight is about.  1100 kg.); to prevent wind damage when it is empty of water between irrigation intervals and late fall and winter should be fixed by wind brakes or stabilizer in 4 –  6  wheels along the lateral.  Read more
Wheel move irrigation system patterns: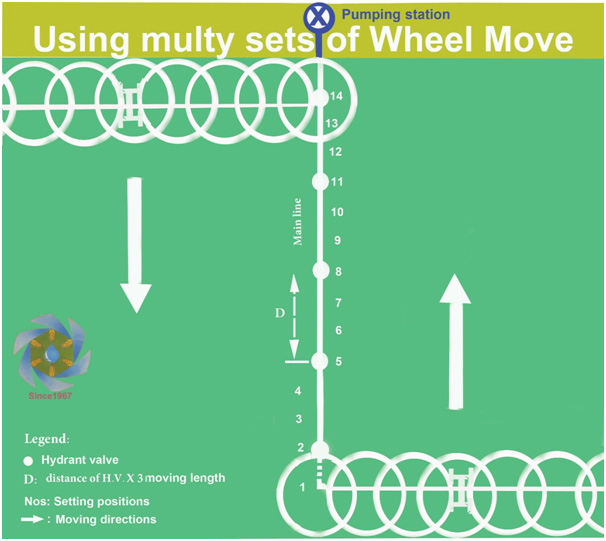 To be used for 2 or more sets of wheel line; for minimum meter inch of Main line pipe per hectare.